A very strong and robust advocate. She is hugely experienced and knows all there is to know about private children law. Clients love her as she knows her instructions inside out, has great bedside manner and is fearless in the court room.
Legal 500, 2022
Ami specialises in all aspects of family law other than matrimonial finance. She has built a busy practice and appears in the FPC, County Court and High Court. Ami is a qualified Public Access barrister.
If you would like any further information regarding Ami Bartholomew's practice, please contact her clerks or call +44 (0)20 7405 6114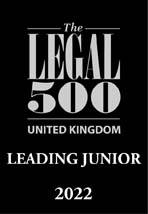 Children & family

Ami is fully versed in the wide variety of children matters that arise following the breakdown of parents' relationships. She has experience of advising and acting in private law proceedings which include issues of residence, contact, temporary and permanent removal from the jurisdiction, and special guardianship. In addition to representing parents she is regularly instructed on behalf of extended family members. She is experienced in acting in intractable disputes, cases in which the children are made parties and private law matters which include allegations of sexual and physical abuse, domestic violence, neglect, abduction, mental instability and addiction.

Ami is regularly instructed in public law care and adoption proceedings. Her practice includes advising and representing local authorities, parents, family members and the children. She has experience of acting in complex cases which have included allegations of sexual and physical abuse, neglect and issues of consent to medical treatment. Ami also has experience in acting for parents who are particularly vulnerable due to issues of mental health, disability, addiction or abuse.

Ami is instructed in child abduction proceedings and seeks to develop her practice in this area.
Injunctions

Ami is regularly instructed to advise and act in proceedings under Part IV of the Family Law Act 1996 and in committal proceedings which may consequently arise.

Ami has recently developed a particular interest and experience in proceedings concerning Forced Marriage Protection Orders. She has particular expertise in the complex disclosure issues that regularly arise in these applications.
Seminars

Ami is a regular contributor to the chambers' seminar programme, which includes the following:

Contact and Residence: A Practitioner's Guide
Domestic Violence in Contact Disputes: A return to a more cautious approach?
Education

LLB (Hons) King's College, London
BVC, Inns of Court School of Law
Professional memberships
Privacy Notice