Clients love her as she knows her instructions inside out, has great bedside manner and is fearless in the court room.
Legal 500, 2022
She is very strong in putting a client's case forward and is very well-liked by clients for her direct and honest approach
Legal 500, 2024
A very strong and robust advocate. She is hugely experienced and knows all there is to know about private children law.
Legal 500, 2022
She is very thorough with her preparation and grasps concepts well within a case
Legal 500, 2024
She is brilliant in complex domestic violence or abuse cases.
Legal 500, 2023
Ami is tremendously effective, always at the top of her game and able to distil an enormous amount of complex material into a manageable way.
Legal 500, 2023
Ami is a fierce advocate and commands the courtroom
Legal 500, 2024
Ami is a children law barrister specialising in both private law and public law jurisdictions. She represents parents, local authorities, wider family members, the child/children's guardian.
Ami is highly experienced in challenging cases involving:
serious allegations including of physical, sexual and emotional abuse, domestic abuse and coercive control and implacable hostility
complex medical evidence and serious injuries to young children, and
forced marriage.
She specialises in witness handling and fact-finding advocacy, particularly in cases involving vulnerable parties. She has completed the Advocacy & The Vulnerable (Family) training.
Ami is a qualified Public Access barrister.
If you would like more information about Ami's practice, please contact her clerks or call +44 (0)20 7405 6114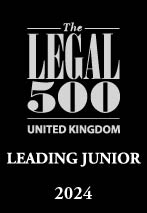 Private law children cases

Ami advises and acts in all types of child law-related cases following the breakdown of parental relationships.

She represents parents, guardians and extended family members and on occasion the separately represented child in various matters such as:

parental responsibility
temporary and permanent removal from the jurisdiction
prohibited steps and specific issue orders
enforcement, and
special guardianship.

Ami is highly experienced and effective in acting in complex and intractable disputes.
Public law children cases

Ami is instructed in public law care and adoption proceedings.

She is highly experienced in acting in care proceedings across a wide range of welfare issues.

She acts in cases which include allegations of sexual and physical abuse, non-accidental injury and issues of disclosure, confidentiality and consent to medical treatment.

She appears in matters concerning the inherent jurisdiction of the High Court including:

deprivation of liberty
death/killing of a parent.
Forced marriage protection orders

Ami is highly experienced in proceedings concerning Forced Marriage Protection Orders. She has considerable expertise in the complex disclosure issues that regularly arise in these applications.
Applications under Part IV of the Family Law Act 1996

Ami is instructed on a privately-funded basis to advise and act in proceedings concerning applications for non-molestation orders and occupation orders and in committal proceedings which may consequently arise.
Reported cases
Education

LLB (Hons) King's College, London
BVC, Inns of Court School of Law
Professional memberships

ALC – Association of Lawyers for Children
Privacy notice