Brilliant - he pays attention to detail and is approachable and knowledgable; he is passionate about social housing.
Legal 500, 2022
Christopher is developing a broad litigation and advisory practice. He has experience in respect of court and tribunal proceedings, and in alternative dispute resolution. Christopher welcomes paperwork and court instructions in these areas:
Property and housing
General commercial and chancery
Insolvency, personal and corporate
Aviation and travel
As a qualified Public Access barrister, Christopher will accept instructions from company directors, consultants, in-house lawyers, and members of the public, in appropriate cases.
Christopher was nominated for the 2020 Young Pro Bono Barrister of the Year award at the Advocate Bar Pro Bono Awards.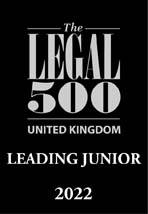 Property & housing

Christopher has experience in a range of disputes concerning property and housing, both in court and in the First Tier Tribunal (Property Chamber). His work includes:

 Property:

Mortgages, both consumer and commercial
Land registration and options to purchase
Trusts of Land and Appointment of Trustees Act 1996 (TOLATA) and proprietary estoppel
Forfeiture and relief from forfeiture
Boundary and rights of way disputes
Disrepair and dilapidations
Leasehold enfranchisement, lease extension under Leasehold Reform, Housing and Urban Development Act 1993 (LHRUDA)
Covenants, including breach of covenant and applications to modify or discharge restrictive covenants
Possession claims, including bringing or defending applications to set-aside possession orders or suspend warrants, trespassers and interim orders
Service charges, including s.20 consultations and dispensing with their requirements,
Right to manage
Council tax and rates
Business leases

Housing:

Homelessness
Allocation
Succession
Social housing possession, including issues related to Equality Act 2010
Anti-social behaviour and nuisance
Tenancy fraud, including unlawful sub-letting and rent repayment orders
Social housing disrepair and breach of covenant

Cases include:

Jarvis v Evans and another (Shelter Cymru intervening) [2020] EWCA Civ 854

–  junior counsel (led by Sarah Salmon) for the successful Respondent tenants in the first Court of Appeal case to consider the provisions of Part 1, Housing (Wales) 2014. Landlords who are not licensed under Part 1 cannot rely upon a section 8 or section 21, Housing Act 1988 notice served by them to obtain possession unless they have used an authorised agent
Re H (2020): successfully representing a large housing association in defending it from a claim that it was required to be registered in order to serve a s.21 notice, the argument having implications for over 37,000 properties
Dhillon v Barclays Bank Plc and Chief Land Registrar [2019] EWHC 475 (Ch) – property fraud; void transfers; alteration of the register. Representing the claimant, as sole counsel, in a decision under paragraph 3(3) of Schedule 4 of the Land Registration Act 2002. Held that "exceptional circumstances" justified the court not ordering rectification of a mistake, namely the forged dispositions of the property. Important decision on the availability of an indemnity in "derivative mistake" situations
Kam Fai To v London Borough of Newham (E03EC990) (2019): terms of a business lease renewal, successfully representing claimant at tribunal hearing in relation to a dispute over the permitted use and rent clauses in the new lease subject to the 1954 Act
City of London v 363 Lessees: LON/00AU/LDC/2019/0107 FTT-Property Chamber, (2019): representing City of London in its successful application to disapply a s.20 consultation requirement in relation to 363 leases across five estates
EB Pension Fund v Froggatt: LON/00AE/LBC/2018/0002 FTT-Property Chamber (2018): Successfully defending tenant against a landlord's breach of covenant claim
R v D (2017): Advising a business as to its rights in relation to an assignment of a 1954 Act protected lease and share sale purchase.
Re D (2016): successfully representing a claimant in a 2-day trial concerning a dispute between family members as to the ownership of a £1.1m family home under TOLATA.
Commercial & Chancery

Christopher has experience relating to the drafting of statements of case, advising, and appearing in court, or in interlocutory applications, in matters with commercial or chancery elements. His work includes:

Shareholder and/or company disputes, including s.994 Companies Act 2006 petitions
Restoration of companies to the register
Applications to register a charge out of time or to correct a statement of particulars under the Companies Act 2006
Claims under Inheritance (Provision for Family and Dependants) Act 1975, and in regard to the administration of estates and/or validity of wills
Commercial injunctions
Claims regarding the supply of goods or services
Contractual or franchise disputes
Claims under guarantees
Commercial debt claims
Agents and agency disputes
Credit and hire purchase disputes, regulated and unregulated agreements
Return of goods and satisfactory quality
Undue influence and unconscionable bargains
Restitution

Cases include:

Adande v Firoka (King's Cross) Ltd [2018] EWHC 3679 (QB) – Hotels; negligence; security precautions; hotel lock scandal; disclosure and permission to adduce further evidence on appeal – successfully represented the claimant in a claim for the loss of jewellery and other items from a hotel room following a burglary. Hotel was found to be negligent in being aware of a door locking system being vulnerable to being overcome by thieves
Re NCL (2017): successfully obtaining an injunction before Morris J against the continuation of a solvent winding up of a charitable company that owned a football ground in East London
Re W (2017): claim regarding the administration of an estate worth £1.7million
Assisting in A v A, L and P (2015): a claim regarding an investment in a Central London nightclub, raising issues of partnership, restitution, estoppel and contract
Acting as junior counsel in relation to a multi-million-dollar dispute that concerned the rules for the interpretation of payment guarantee and on demand performance bonds: Caterpillar Motoren GmbH v Mutual Benefits Assurance Company [2015] EWHC 2304 (Comm)
Insolvency & asset recovery

Christopher regularly appears in the High Court and the County Court in relation to insolvency and asset recovery matters. His work includes:

Statutory demands
Injunctions to restrain presentation of a winding up petition
Creditors' or voluntary winding-up petitions, Supervisors' petitions (contributories)
Bankruptcy petitions
Rescission or annulment of bankruptcy orders
Transactions at an undervalue and preferences under the Insolvency Act 1986 or Care Act 2014
CVA or IVA advice
Interim and final charging orders
Third party debt orders
Injunctions or ex-parte applications in relation to suspended committal orders or orders for questioning, or restraining the presentation of a winding-up petition

Cases include:

Re TK (2017): successfully representing a finance house in defending an application to set aside a statutory demand
LNC v C (2016): successfully representing an insurance company in an application for annulment of bankruptcy raising issues of service and handwriting
Re OM (2016): Representing a successful debtor by achieving dismissal of a High Court bankruptcy petition on grounds of set-off in respect of a future claim against the creditor
Re B and B (2016): representing a Trustee who was successful in his claim under s.423 of the Insolvency Act 1986 to set aside a deed of trust.
Aviation & Travel

Christopher has experience of drafting pleadings and applications on behalf of airlines and appearing at hearings and trials in aviation and travel disputes. His work includes:

Delay, cancellation or denied boarding
Montreal and Tokyo Convention, and other aviation conventions
Claims for damages in respect of package holidays

Cases include:

Re GJ (2020): advising in respect of the Civil Aviation Act 1982
D v M (2017): successfully disputing the court's jurisdiction under CPR Part 11 on behalf of a major international airline based in Asia.
Re R (2017): successfully defending an international airline based in the Middle East against claims of race discrimination and unlawful denied boarding.
S v M (2017): drafting a defence and counter schedule of loss for a large European airport in relation to a slip at a security checkpoint causing a serious bone fracture. Expert evidence on foreign law was necessary for the defence.
Re B (2016): successfully defending a large baggage loss claim at trial on behalf of an international airline based in Belgium.
Re T (2016): Representing a package tour operator based in the UK in respect of a claim for loss of enjoyment and injury to feelings resulting from the failure to provide a particular hotel room for the couple's wedding anniversary.
Professional Memberships

Chancery Bar Association
Property Bar Association
Social Housing Law Association
Education

GDL (Distinction) City University, London
Middle Temple (The Lord Diplock Scholarship)
BA (Exon) (2.1) History and Ancient History

Christopher studied basic Mandarin Chinese at East China Normal University in Shanghai and continues to develop his Mandarin Chinese skills.