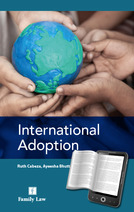 Field Court Chambers Member, Ruth Cabeza, has co-authored a book on International Adoption published by Jordans and due to be launched later this month.
International Adoption examines the detailed legal framework for adoption with an international element and introduces the reader to the complexities of both UK legislation and the Hague Convention on Intercountry Adoption. Thus, the title equips practitioners with the tools required to advise a client on how to:
adopt a child in this country who is habitually resident outside of the British Isles
obtain legal recognition in the UK for a foreign adoption
arrange for the adoption of a child who is habitually resident in this country, where the prospective adopter is domiciled and habitually resident outside of the British Isles
The book also includes appropriate specialist information in relation to immigration matters so as to alert the reader to the potential issues that may need to be considered.
Mrs Justice Theis who wrote the foreward to the book says:
"The authors have produced an invaluable guide in this difficult area of the law. They are to be congratulated on producing a truly comprehensive work on the law and practice relating to this complex subject.
The book takes the reader logically through the law and practice arising on both Hague Convention and Non-Hague Convention adoption and is helpfully divided into two parts, depending on whether the United Kingdom is the receiving state or the state of origin. In addition it brings together, in a comprehensive form, the relevant statutory provisions and rules which are set out in the Appendix."
For more information on International Adoption go to Jordans.