Lily is a compelling advocate.
Legal 500, 2024
She prepares thoroughly and knows her cases inside out.
Legal 500, 2024
She is well-regarded by other professionals and court staff.
Legal 500, 2024
Lily Cooke accepts instructions related to all family law proceedings including children law (both private and public), domestic abuse, divorce and ancillary relief.
She is a strong advocate and has a passion for public law matters. She has appeared at all stages of proceedings.
Lily gets to grips with a matter quickly and represents a wide range of clients.
Her particular ability to support vulnerable clients through the court process means she can manage the emotions of her clients during proceedings.  Also by providing them with accurate and easy-to-understand advice, she helps facilitate their participation in the legal process.
Her caseload covers:
all areas of public law proceedings including care and supervision orders
adoption orders
secure accommodation orders
Family Drug and Alcohol Court (FDAC) cases
special guardianship orders
wardship orders
child arrangements orders
applications for parental responsibility
prohibited steps and specific issue orders,
non-molestation and occupation orders
appeals
Lily is the barrister who helps champion pro bono within chambers – working closely with Advocate. She has volunteered at the Free Representation Unit where she represented individuals at employment tribunals, and also at the Support Through Court charity where she assisted people who were faced with the prospect of representing themselves at court.
While completing her legal studies, Lily worked full-time in property development and management.
If you would like more information about Lily's practice, please contact her clerks or call +44 (0)20 7405 6114.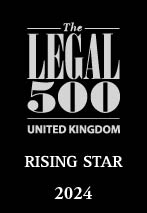 Child law: notable cases

Acted pro bono for the father in A Mother v A Father [2023] EWFC 105. The case involved two applications by the mother: for costs against the father following a fact-finding hearing about sexual abuse allegations concerning their young daughter and for the removal of the father's parental responsibility. The judgment notes Lily's contribution to the case acting pro bono on behalf of the father. "It does [her] and the Bar great credit".
Representation at a 5-day final hearing of a young mother facing the permanent removal of her two children with a care plan of adoption. Following Lily's forensic cross-examination of the allocated social worker in relation to the lack of RE: B-S analysis within the local authority's final evidence, the matter was adjourned for further assessment and analysis. Subsequently, the local authority  changed their care plan to a return of the children to their mother. Proceedings are ongoing.
Representation of a mother in private child proceedings in an appeal following a decision made in the Magistrates court at a final hearing. The mother sought a prohibited steps order against a third party due to concerns of sexual abuse, however the court ordered undertakings be provided by the father that were subsequently unenforceable. The appeal was allowed.
Education

University of Liverpool – BA Hons Egyptology and Politics
University of Law London – GDL
BPP University London – BPTC
Awards

'Best mediator' – awarded by peers on Society of Mediators course
Memberships
Privacy notice