Our commitment to the wider society means we're involved in a range of initiatives that have a positive impact on wellbeing, communities and the planet.
In our day-to-day work, much of what we do benefits local communities as a whole.
Free legal advice to people unable to afford it
Many of our barristers provide pro bono (free) advice to people who are unable to afford legal representation. They receive these cases through referrals from the charity Advocate.
We participate in Chambers Pro Bono Framework.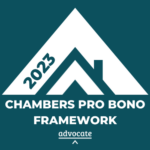 Also, we are a member of the Pro Bono Connect scheme which helps barristers and solicitors collaborate on pro bono cases. The scheme, supported by LawWorks matches barristers and solicitors acting pro bono on civil matters for individuals, charities and community groups who cannot afford legal advice or representation.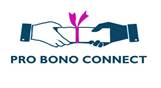 Preventing modern slavery in our business and supply chains
We are not required to make a statement under section 54(1) of the Modern Slavery Act 2015 . However, we choose to do so as a public statement of our commitment to ensuring that there is no modern slavery or human trafficking in any part of our business or supply chains.
Read our modern slavery statement in full.
Our support for charities
Each year, our barristers and staff vote for a charity to partner with for that year. Our support includes donations, pro bono advice and other volunteering for the charity.
For 2023, we have chosen to support Action for Children.
Our charity partner for 2021 and 2022 was Mind.
Our charity partner for 2020 was Crisis.
Collectively and individually, our barristers and staff support various charities.
London Legal Walk: we participate in the 10km walk to raise money for free legal advice services in London and the South East that give vulnerable people with access to justice regardless of their financial situation. One of our barristers Sarah McKeown is a trustee of the London Legal Support Trust which organises the annual fundraising walk.
Eleanor Sibley acted pro bono as junior counsel for the AIRE Centre (the intervenor) in a successful appeal against refusal of Disability Living Allowance (care component) to a British child with a parent working in the EU. The Court of Appeal's judgment in Harrington v Secretary of State for Work and Pensions [2023] EWCA Civ 433 is available on Bailii. Eleanor was led by Tom de la Mare KC and Ravi Mehta of Blackstone Chambers, and instructed by Herbert Smith Freehills.
In 2019, we again sponsored a charity concert to fundraise for charity Family Action and the Middle Temple Scholarship fund. Each received £3300.
Encouraging equality and diversity at the Bar
We believe it is important to encourage equality and diversity at the bar.
Our mini-pupillage programme is open to anyone interested in a career at the bar.  We hope by offering these opportunities to widen the pool of people who gain an insight into life at the bar.
We are one of the founder member sets of a mentoring scheme for under-represented groups at the Bar . Five of our barristers were mentors on the scheme.
The initiative was launched in September 2021 in partnership with 4 other chambers and with the support of the Planning and Environment Bar Association.
We continue to be involved for the scheme's second intake of mentees in 2022/3.
On a day-to-day basis, we offer our barristers flexibility in managing their practices to meet their personal and professional commitments.
We support new parents returning to work after parental leave by reducing the amount of rent they pay in their first 3 months back in practice.
Wellbeing
Funding cuts and other pressures on the legal system can add to the stress barristers face in their working lives. Our Wellbeing Officer has developed a wellbeing policy to support our barristers in achieving a healthy work-life balance.
We promote good working practices to help address work-related stress.
Our commitment to sustainability
As much as possible, we try to minimise our carbon footprint.
Bike to work scheme: we encourage our staff to sign up to the scheme and to cycle. The scheme offers savings on the cost of buying a bike and accessories. We also provide secure bike storage.
We encourage secure recycling and sustainability within chambers.
All offices have recycling bins in them.
We provide glasses and mugs rather than disposable cups.
We offer drinking water in jugs rather than in plastic bottles.
We collect and reuse name badges.
Wherever practical, we buy environmentally friendly products.