We are recommended as a leading set in housing law in both Chambers and Partners and The Legal 500 legal directories.
With a level of experience ranging from one year to over forty years' call, we have over 20 barristers in our Housing Group (see below).  Many of our barristers have appeared in the leading cases in this area.  Moreover, our public law expertise means that we are also well-suited to act in cases where housing law interacts with equality, human rights, EU, social services and community care law.
Our Housing Group is led by Adrian Davis and Emma Godfrey, who also co-author the highly acclaimed practitioners' textbook 'Claims to the Possession of Land'.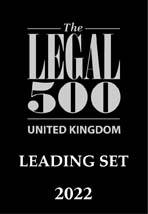 Our expertise
We advise and represent local authorities, housing associations, registered social landlords, private landlords and tenants, in tribunals and courts ranging from the County Court to the Supreme Court. Our work includes:
Homelessness, Part VII Housing Act 1996 and Part 2 Housing (Wales) Act 2014
Allocations and Part VI Housing Act 1996
Judicial review
Possession and eviction proceedings
Succession
Tenancy fraud
Right to buy
Anti-social behaviour
Unlawful eviction and harassment
Housing conditions and nuisance
Houses in multiple occupation
Service charges and other leasehold matters
Housing management and policy
We produce regular case analysis and articles. We also offer seminar and training events on the latest developments in housing law.
Notable cases include:
Patel v London Borough of Hackney [2021] EWCA Civ 897
Jarvis v Evans and another (Shelter Cymru intervening) [2020] EWCA Civ 854
LB v Tower Hamlets LBC [2020] EWCA Civ 439 (CA)
Tower Hamlets LBC v Ahmed [2020] HLR 16 (CA)
R (Idolo) v Bromley LBC [2020] EWHC 860 (Admin)
Yildiz v Hackney LBC [2019] HLR 46 (CA)
Birmingham CC v SS & SA [2017] HLR 6 (CA)
R (Kensington & Chelsea RBC) v Ealing LBC [2017] HLR 13 (Admin)
Gill v Birmingham CC [2016] HLR 29 (CA)
R (JS & Others) v Sec of State for Work & Pensions [2015] HLR 21 (SC)
Johnston v Westminster [2015] HLR 714 (CA)
Charalambous v Ng [2015] 3 All ER 814 (CA)
Royal Borough of Greenwich v Tuitt [2015] HLR 10 (CA)
Mohammed v Islington LBC [2013] HLR 41 (CA)
Francis v Brent Housing Partnership Ltd [2013] HLR 47 (CA)
Mitu v London Borough of Camden [2012] HLR 137 (CA)
Vilvarasa v London Borough of Harrow [2011] HLR 11 (CA)
De Winter Heald v Brent LBC [2010] 1 WLR 990 (CA)
Porter v Shepherd's Bush HA [2008] EWCA Civ 196 (CA) & (HL) (2008)
Hassan Omar v Westminster CC [2008] EWCA Civ 421 (CA)
Westminster CC v Morris [2006] 1 WLR 505(CA)
Bristol CC v Hassan [2006] 4 All ER 420 (CA)
Tower Hamlets LBC v Deugi [2006] HLR 28 (CA)
Tower Hamlets LBC v Rahanara Begum [2006] HLR 9 (CA)
Banjo v Brent LBC [2005] HLR 32 (CA)
Griffin v Westminster CC [2004] EWCA Civ 108 (CA)
Donoghue v Poplar HARCA & Others [2002] QB 48 (CA)
Burton v Camden LBC (2002) AC 428 (HL)
Housing barristers