Emma Godfrey is a formidable barrister."
Chambers & Partners, 2024
Emma is professional and no-nonsense.
Chambers and Partners, 2021
She is a pragmatic and very intelligent junior.
Legal 500, 2024
Able to provide comprehensive advice, with a clear approach and with the understanding of the client's priorities.
Legal 500, 2021
Able to quickly and clearly assess the strengths and weaknesses of a client's case.
Legal 500, 2018
Emma Godfrey is brilliant.
Chambers & Partners, 2024
She is precise in her paper work, a very effective advocate and is always willing to take on a challenge
Legal 500, 2020
Excellent knowledge of the law and a professional, friendly manner. Persuasive and detailed in court.
Legal 500, 2021
Her paperwork is precise and she works quickly.
Chambers and Partners, 2022
She is very on point and clear with her advice and judgement.
Chambers and Partners, 2022
Emma's opinions and advocacy skills are excellent. She is very helpful and approachable and will always go above and beyond to answer any queries.
Legal 500, 2023
Hugely knowledgeable and incredibly friendly.
Chambers and Partners, 2023
Emma Godfrey is a civil and public law practitioner with particular specialisms in housing, local government and property law. She undertakes advocacy, drafting and advisory work for a wide range of clients, including local authorities, public and private sector landlords and tenants, companies and individuals. She has experience of appearing in courts and tribunals at all levels, from the FTT and county court to the House of Lords.
Emma is recommended as a leading junior for social housing in Legal 500 (ranked consistently since 2015) and Chambers and Partners (ranked consistently since 2018). Emma is also ranked for Local Government in Legal 500.
She has been co-author of Tolley's Claims to the Possession of Land since 2000.
She is able to accept direct access instructions within her areas of specialism.
If you would like more information about Emma's practice, please contact her clerks or call +44 (0)20 7405 6114.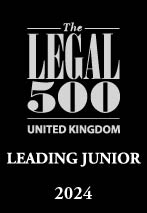 Housing

Emma is recommended in Chambers and Partners and the Legal 500 as a leading junior in social housing. She has considerable experience in all areas of housing work, including:

Homelessness and Part VII Housing Act 1996
Allocations and Part VI Housing Act 1996
Possession and demotion claims
Succession
Housing conditions and disrepair
The Right to Buy
Service Charges
Anti-social behaviour
Public law and local government

Emma regularly acts in judicial review claims with a particular emphasis on housing, community care and the provision of support under Part III Children Act 1989. She also appears in cases concerning disputed age assessments.
Property

Emma has been co-author of Tolley's "Claims to the Possession of Land" (5th Edn) for over 20 years. Her practice encompasses all areas of residential and commercial landlord and tenant litigation including:

Possession and forfeiture claims
Leasehold enfranchisement
Service charge disputes
Disrepair

Emma also undertakes cases concerning adverse possession, mortgages and the priority of interests in land, rights of way, and TLATA claims.
Cases of Interest

Patel v London Borough of Hackney [2021] EWCA Civ 897

(Court of Appeal; assessment of affordability of accommodation for the purposes of determining whether an applicant for assistance under Part VII Housing Act 1996 had become homeless intentionally)

R (oao MIV and others) v LB Newham [2018] EWHC 3298 (Admin)

(Admin Court; claim for damages under Human Rights Act 1998 in respect of accommodation provided under s.17 Children Act 1989)

R (oao Royal Borough of Kensington & Chelsea) v London Borough of Ealing [2017] EWHC 24 (Admin); [2017] PTSR 1029

(Admin Court; whether a local housing authority which receives a local connection referral under s.200 HA 1996 can rely on a prior discharge of duty towards the applicant)

Golding v Secretary of state for Transport [2013] EWHC 300 (Admin); [2013] RTR 20

(Admin Court; appeal by way of case stated relating to the revocation of a driving licence on medical grounds)

Mitu v London Borough of Camden [2011] EWCA Civ 1249; [2012] HLR 137

(Court of Appeal; the construction and application of r.8(2) Allocation of Housing and Homelessness (Review Procedures) Regulations 1999)

Vilvarasa v London Borough of Harrow [2010] EWCA Civ 1278; [2011] HLR 11

(Court of Appeal; discharge of duty under s.193(5) HA 1996)

R (oao Ghandali) v London Borough of Ealing [2006] All ER (D) 134 Jul

(Admin Court; judicial review of priority awarded under local authority's allocation scheme)

R v IAT ex parte Anton Judes [2001] EWCA Civ 825

(Court of Appeal)

Burton v London Borough of Camden [2000] 2 AC 428

(House of Lords; whether a joint secure tenant can "release" her interest to the other joint tenant, thereby avoiding the restrictions on assignment in s.91 HA 1985)
Publications

Emma is co-author of Tolley's Claims to the Possession of Land (5th Edition), a highly regarded loose-leaf practitioner text.

Emma has also co-written of a series of practice notes on homelessness for Practical Law. Emma regularly delivers seminars to solicitors, landlords and local authority officers.
Professional memberships

Property Bar Association
Social Housing Law Association
Education

MA (Mathematics) (Oxon)

Dip Law (with Distinction)

Cert HE (History) (London)

Lincoln's Inn CPE Award and Sir Thomas More bursary
Privacy notice

Emma's Privacy notice can be found here