Nikolas was supportive and clear on the process and what needed to be done, but also was really mindful of the wider corporate issues for us and what we needed to address."
Chambers & Partners, 2024
Excellent client care and very reassuring manner when the case gets tricky
Legal 500, 2022
His candid advice, demonstrating his depth of knowledge of the law and tribunal practice, coupled with his practical and commercial eye is invaluable
Legal 500, 2024
He knows what coroners will expect, he is able to anticipate the questions that will be raised, he knows the mindset and what the coroner will need to know."
Chambers & Partners, 2024
...kept instructing solicitors updated throughout an inquest and well liked by lay clients.
Legal 500, 2022
A very strategic thinker who is extremely knowledgeable and supportive of clients.
Legal 500, 2024
Patient with clients and takes time to explain complex issues in straightforward language.
Legal 500, 2023
He is one of those people who is so reassuring when you need a bit of confidence: he has a really calming presence.
Chambers and Partners, 2023
He is attentive and gave clear advice. He is very knowledgeable
Chambers & Partners, 2024
Nikolas Clarke is an experienced civil law advocate who focuses mainly on inquests, employment and personal injury cases.
He is instructed by the full range of interested persons in inquests. Nikolas regularly acts for local authorities in inquests which raise concerns about the state or its agents failing to protect the deceased. This Article 2 ECHR inquest expertise means he is well-placed to act in related judicial review and civil claims.
He is a part-time fee-paid employment judge and also sits as a Deputy District Judge.  Previously he sat as a First-tier tribunal judge in the Health, Education & Social Care Chamber, hearing appeals in the mental health jurisdiction.
Nikolas is a registered Direct Public Access barrister.
If you would like more information about Nikolas' practice, please email his clerks or call them +44 (0)20 7405 6114.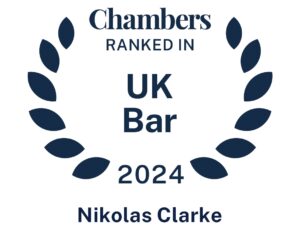 Inquests

Much of Nikolas' work is for local authorities, often where there has been involvement through Social Services, a local authority school, the Highways Authority or other departments.

He represented the local authority in an inquest concerning the suicide of an unaccompanied asylum-seeking Eritrean. The local authority was responsible for the deceased as a Looked After Child. See The Guardian's article.

In 2018, led by John McLinden QC, he represented a local authority in an inquest arising out of a cyclist's death. The inquest involved the local authority's planning and development, environmental control and street cleansing departments and Highways Authority as the road's dirty condition was a potential contributory factor. See coverage in the Evening Standard.

Other work includes representing care homes, hostels and social housing providers.  Finally, Nikolas often appears in inquests connected with civil claims (whether he is instructed in the civil claim or not) arising out of traffic accidents.
Employment law

Nikolas is an experienced employment barrister. He advises and represents employees and employers in the full range of employment claims and appeals, including cases of unfair dismissal, contract claims (including confidentiality and restrictive covenant claims), discrimination, harassment, victimisation, whistle-blowing and TUPE.  In addition, he has appeared in a number of cases involving jurisdiction arguments.
Personal injury

Nikolas advises and represents claimants and defendants in all manner of claims such as those arising out of road-traffic accidents, in the course of employment, to members of the public and to prisoners,, including deliberate injuries. Many cases involve orthopaedic or soft-tissue injuries, but cases have also involved catastrophic injuries, brain damage, poisoning, neurological injuries, psychiatric injuries, deafness, repetitive strain/vibration/industrial injuries, etc.

The majority of Nikolas' work is in defending claims where fraud is suspected or alleged, usually being contrived accidents, phantom accidents or claimants, exaggerated injuries and low-velocity-impact claims.

Nikolas brings his earlier extensive criminal law experience to cases of suspected fraud and has a tenacious approach in defending such claims.
Professional memberships

PIBA
South Eastern Circuit
Education

BA (Music) UEA
PgDL (Nottingham)
BVC/Dip Law – ICSL/City University  
Privacy notice