Genevieve Screeche-Powell has an excellent understanding of housing matters. She is very personable and supportive to those instructing her and she has a good rapport with clients.
Chambers & Partners, 2024
She is very approachable, understanding, tells you how it is and what to do. Finds a solution to the problem.
Legal 500, 2022
Very experienced and knowledgeable barrister with a real knack for finding the winning point.
Legal 500, 2023
Genevieve is approachable, adopting a down-to-earth yet informed approach towards her clients
Legal 500, 2024
She certainly knows her stuff, is a great advocate and a lovely person too.
Legal 500, 2023
Genevieve Screeche-Powell responds promptly and knowledgeably to enquiries and is very accommodating
Chambers & Partners, 2024
Her advocacy is clear, precise and easy to follow.
Legal 500, 2024
Genevieve Screeche-Powell is a civil and public law practitioner, specialising in housing, community care, landlord and tenant, property and contract law. She has particular expertise in policy, often instructed in high profile and politically sensitive cases raising novel and complex issues of law.
Genevieve is an accredited mediator with experience of conducting mediations in a wide range of disputes.
Genevieve is also able to accept instructions directly from members of the public within her specialist practice areas.
Please read Genevieve's Remote working policy and GDPR practice statement.
If you would like more information about Genevieve's practice, please contact her clerks or call +44 (0)20 7405 6114.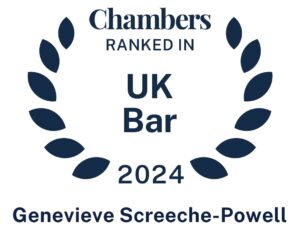 Public law & local government

Genevieve's judicial review practice includes challenges to public policy housing, Care Act and Children Act cases.

Her other local government work includes:

recovery of care home fees
applications under the Mental Health Act
data protection and confidentiality
public interest immunity issues,
civil/general restraint orders against vexatious litigants.

She is ranked in The Legal 500 as a leading junior for local government law.
Housing

Section 204 appeals, allocation, Right to Buy, regulatory work (repair orders/closure orders, appeals and enforcement).
Property / Landlord & tenant

Possession claims, anti-social behaviour, service charge disputes, rent reviews, adverse possession, mortgages and land charges.
Commercial

Contract disputes, business leases (mixture of local authority and commercial clients), debt/asset recovery, banking litigation.
Notable cases

Abdikadir v London Borough of Ealing [2022] EWCA Civ 979. Leading counsel in Housing Act appeal where Court of Appeal determined failure to notify another authority of an out of borough placement did not mean the review decision was unlawful when an applicant had refused an offer of accommodation.
LB v London Borough of Tower Hamlets [2020] EWCA Civ 439 acted successfully for local authority in homelessness appeal raising point of principle about correct time to assess whether it is reasonable to continue to occupy accommodation where future risk of violence raised
Bristol City Council v Hassan & Glastonbury [2006] EWCA Civ 656. Junior counsel for the local authority on case involving consideration of suspended possession orders. Court's discretion to make types of order different to prescribed form.
London Borough of Tower Hamlets v Deugi [2006] EWCA Civ 159. Homelessness appeal. Issue of an authority's power to withdraw decisions outside of the statutory scheme.
London Borough of Tower Hamlets v Ranhara Begum [2005] EWCA Civ 116. Issue as to the appropriate forum in which an aggrieved applicant could challenge a local authority's exercise of a statutory duty, and to what extent an Article 8 human rights defence could be used to defeat a possession claim.
Barrett v London Borough of Tower Hamlets [2005] EWCA Civ 923. Adverse possession. The doctrine that the possessory title to land acquired by a squatting tenant should be presumed to endure for the landlord's benefit should be extended so that on the sale of the reversion to the land comprised in the original tenancy the possessory title to the land acquired by adverse possession would be presumed to be included in the sale.
Tuitt v London Borough of Tower Hamlets (2009): Representing local authority in claim against it for damages for racial discrimination, breach of statutory duty and breach of human rights act in respect of care proceedings concerning applicant's four children.
Education
Privacy notice