Rebecca is an excellent and well-respected counsel.
Legal 500, 2024
She approaches cases fairly ensuring parties work together to achieve the best outcome
Legal 500, 2024
She is approachable, responds promptly and is very happy to assist when required.
Legal 500, 2024
Rebecca Handcock focuses on public, administrative and local government law, Court of Protection, housing and homelessness work.
She regularly acts for central government, local authorities, other public bodies, social landlords. She also represents individuals including legally-aided individuals and those assessed to be lacking capacity.
Rebecca has a keen interest in public inquiry work. She was junior counsel to the Home Office in the Brook House Inquiry and is instructed by the Cabinet Office in the Covid 19 Inquiry.
Rebecca spent her first years of practice in the Government Legal Department as an employed barrister.
If you would like more information about Rebecca's practice, please contact her clerks or call +44 (0)20 7405 6114.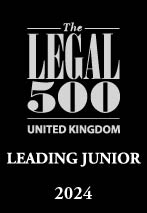 Public law

Rebecca has undertaken a range of instructions for central government as part of their "Junior Junior" scheme.

Such instructions include:

disclosure work in the "Channel Tunnel" litigation (expedited judicial review on the issue of "Brexit" shipping contracts) and Bank Mellat v HM Treasury (action by a state-backed Iranian bank over the impact of UK sanctions)
various complex, national security sensitive cases, including that of Shamima Begum.
Brook House Inquiry (into allegations of mistreatment at an immigration removal centre) – she was instructed as junior counsel to the Home Office.
Court of Protection

Rebecca undertakes work on the full range of issues with which the Court of Protection is concerned, including matters pertaining to Property and Affairs, and Health and Welfare.

She is regularly instructed to deal with matters related to an individual's deprivation of liberty, including challenges under section 21A of the Mental Capacity Act 2005. She is experienced at dealing with complex and urgent matters, including in the High Court.
Housing

Rebecca conducts a range of housing and homelessness litigation. This includes disrepair, anti-social behaviour, housing allocation and homelessness  cases. She is regularly instructed to appeal in s.204 appeals on public law grounds.
Professional memberships

Court of Protection Bar Association
Social Housing Law Association
Education

Rebecca studied Jurisprudence at St John's College, Oxford, and undertook the BPTC at the University of Law.
Privacy notice