Barry has the rare ability to really think through all scenarios in a fact finding, and to drill down to what really happened and why people acted as they did.
Legal 500, 2022
Barry has unique ability to remain focused in the most complex cases, can "jump in and jump out", and not lose his place. He has a terrific brain, is a fine advocate and can think several questions ahead on cross examination.
Legal 500, 2023
Barry McAlinden is a family law specialist. He deals with a range of cases concerning children in the public and private law jurisdictions. These include:
care and supervision orders
adoption orders
secure accommodation orders
child assessment orders & child arrangements orders
parental responsibility orders
contact activity orders
prohibited steps specific issue orders, and
financial remedies upon divorce or in respect of children.
He appears regularly in cases concerning the inherent jurisdiction of the High Court, cases with an international element and cases of serious harm, but also appears in all tiers of the Family Court.
Barry is a qualified Direct Access barrister and is able to accept instructions from members of the public within his specialist areas.
He is joint head of chambers' family law group.
If you would like any more information about Barry's practice, please contact his clerks or call +44 (0)20 7405 6114.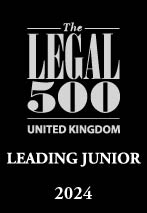 Children law

Barry has extensive experience of representing clients in cases involving:

forced marriage and FGM
death/killing of a parent and cases involving accidental death of a parent
factitious illness
parental alienation, and the underlying causes for this e.g. parents suffering from personality disorders
unlawful removal from the jurisdiction/abduction
serious vulnerability due to cognitive or mental impairment, including acting for suicidal clients and those at risk to themselves
serious psychiatric disorders, including personality disorders
serious physical and emotional harm to children.
Financial provision

Barry deals with claims under:

Schedule 1 of the Children Act 1989
Trusts of Land and Appointment of Trustees Act 1996
Part III of the Matrimonial and Family Proceedings Act 1984 Claims -financial provision following a foreign divorce
Intervenor claims within divorce proceedings.
Education

Inns of Court of Inner Temple
Institute of Professional Legal Studies, Queen's University Belfast
BA Cambridge Fitzwilliam College
Memberships

Family Law Bar Association
Languages

An Gaeilge – working proficiency
French – working proficiency
Italian – working proficiency
Privacy notice