Rebecca is hard-working, fair and a pleasant opponent
Legal 500, 2024
Rebecca Davies is instructed in a range of Chambers' specialisms, including family and public law and in the Court of Protection.
Before coming to the Bar, Rebecca worked on death-row cases as an intern for the Gulf Region Advocacy Centre in Houston, Texas. She has worked in different jurisdictions, including as an intern in Vietnam, and a judicial marshall in Hong Kong.
Rebecca enjoys travel and sports, and loves to combine the two! 
If you would like more information about Rebecca's practice, please contact her clerks or call +44 (0)20 7405 6114.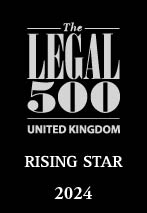 Family

Rebecca acts in both public and private family law matters. She is regularly instructed on cases with an international element. She has appeared in both the High Court and Court of Appeal.

As part of her private law practice, Rebecca aims to provide clear and accurate advice whilst empathising with the difficult emotions confronting those involved. She has been instructed in contact and residence disputes and prohibited steps order applications.

Rebecca has appeared at various stages of public law proceedings, including interim care order applications, case management hearings, issues resolution hearings, contested final hearings, and contested adoption proceedings.

She has worked for parents, guardians, and local authorities, and uses this experience to provide multi-faceted and innovative solutions to issues which arise within proceedings.
Public

Rebecca advises and accepts instructions on behalf of both applicants and respondents. Rebecca has been praised for her ability to resolve matters at an early stage having regards to the priorities of the client and need to achieve a swift and just resolution.
Court of Protection

Rebecca accepts instructions on a range of Court of Protection matters. She has an avid interest in the impact and workability of the current deprivation of liberty regime and has been involved in appeal work in this regard.
Reported cases

Re C (Child: Ability to Instruct Solicitor) [2023] EWCA Civ 889 – Rebecca represented the local authority in its support of a mother's successful appeal against an order granting her 14-year-old son separate legal representation. (Findings of severe parental alienation had been made during previous care proceedings).

CV (A Child) (Placement Order) [2022] EWCA Civ 930  – Rebecca acted for the father in care proceedings concerning his 3-year-old child with life-threatening conditions. She had spent her life in hospital or with experienced foster carers. The Court of Appeal allowed the appeal against the placement order brought by the mother and supported by the father.
Professional memberships

Family Law Bar Association

Employment Law Association

Advocate
Education

BPTC, BPP London, 2016-2017

BA Jurisprudence with European and International Law, Merton College, Oxford, 2011-2015

European and International Law, Universiteit Leiden, 2013-2014
Privacy notice